It has been a little over a year since we wrote our first blog on the newly launched infinitSpace website. And what a year it's been – over the past 12 months, our team has expanded, and we have gained a footing in several new countries across Europe. The future is looking very bright indeed.
But for those who have only recently discovered infinitSpace, let's take a moment to rewind and explain who we are, what we do, and the story behind the business. Read on to find out more about our three brilliant co-founders, and the ways in which infinitSpace is going to disrupt the world of flexible working.
Meet the co-founders
infinitSpace is founded by three seasoned executives – Wybo Wijnbergen, Wilco Wijnbergen and Elad Hod. Here's a little more information about them:
Wybo Wijnbergen, CEO
Wybo is a former Managing Director at WeWork, where he helped oversee the company's expansion across Western Europe. Prior to that, he was General Manager at Merlin Entertainment Inc. Wybo combines vast experience in scaling businesses into household names, along with a granular knowledge of commercial real estate and flexible working.
Wilco Wijnbergen, CTO
Wilco is the founder of multiple IT companies, including one of the Netherlands' foremost business management software solutions. He is an experienced SaaS entrepreneur with a track-record in developing innovative business software and a passion for delivering positive change through the use of technology.
Elad Hod, CGO
Elad is a former Director of Real Estate at Mindspace. He is a flexible workspace specialist, with a huge amount of experience in Pan-European commercial real estate transactions. Elad has great insight into how businesses, communities, cultures and people can connect within and benefit from physical spaces.
The story behind infinitSpace
Wybo, Wilco and Elad were united by a keen understanding of how the world of work was changing. More than that, they shared the same vision for how the workplace needs to evolve in order to meet the demands of all the key stakeholders: commercial landlords, business leaders and employees.
Simply put, even before anyone had heard the term Covid-19, the rise of flexible working was altering the way people thought about offices. The concept of working five days a week from the same desk in the same room was fast becoming outdated.
Last year, our co-founders sat down with many office building landlords to discuss flexible working; their opinions on it and the challenges it presents them. We heard their views on the industry and how they perceived the future of office space, not to mention the complexity of embracing flexibility within their own buildings.
One message stood out. Almost everyone we spoke to in the real estate industry mentioned that traditional long-term tenants now require additional services and available flexible workspace, as well as meeting facilities in the same building.
There was an urgent need to respond, with the demand for flexible private office spaces accelerating significantly through the Covid-19 pandemic. The question for commercial landlords was – and still is – how can they adapt their buildings to meet this rising demand?
Many landlords have explored the opportunity to start offering flexible workspaces and meeting rooms under their own brand, as they wanted to stay in control over their building and not hand it over to an external operator. However, most have realized that operating a premium flexible workspace brand looks simple from the outside but is complicated on the inside.
We saw an opportunity here. There was a way of solving this problem and also adding value to the real estate industry. We could allow landlords to stay in control of their buildings by working together in a partnership deal, while still creating collaborative and inspiring flexible workspace environments. And so infinitSpace was born.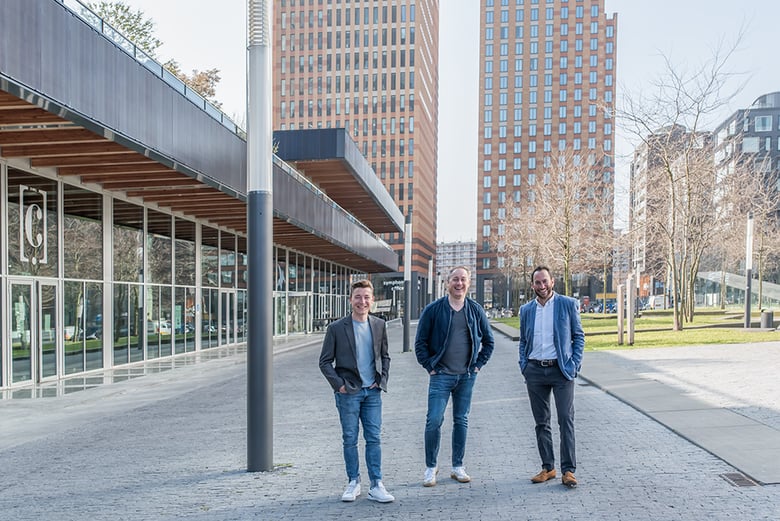 Our mission
As Wybo recently wrote: "Where the industrial revolution was about transforming the workplace to increase productivity, the next revolution of the workplace is about improving the lives of the workforce."
At infinitSpace, we exist to empower this change by providing innovative, flexible workplace solutions. Understanding that a hybrid model of remote and on-site working is set to become the most common option for companies around the world, we are helping to create spaces that meet their needs.
We believe in fostering human connections and improving the quality of people's lives by providing an inspiring and collaborative workspace to everyone within a 15-minute commute. In doing so, not only will we reduce businesses' (and individuals') carbon footprint, we will also create a positive change in local communities around the world.
For commercial landlords, we create white label flexible workspace brands. They maintain control of the space, but we do the heavy lifting – we implement modern technology with all the facilities and solutions that companies today require. The result is an incredible experience for the tenant, while the landlord is better able to serve the exponentially increasing demand for flexible workspaces.
As Elad explains, "Landlords have to add a flexible workspace component to every building, alongside providing an optimized experience for traditional tenants. Those not adjusting to the market's new era will take an unbearable risk of becoming non-competitive."
We make this conversion from traditional offices to flexible workplaces easy, allowing landlords to move into this market at pace. As noted above, technology plays a key part in our offering.
"Our coworking and flexible workspace software offers a wide range of features, making it easy for the landlord and everyone in the building to smoothly navigate, and connect with one another," says Wilco. "From viewing revenue and occupancy through to using data insights to maximise the output from your space, we empower landlords by putting cutting-edge technology into the palm of their hand."
If you're a commercial landlord, get in touch today to find out how infinitSpace can help to create amazing, white label flexible workspaces in your building.