How Real Estate Can Shape the Future of Work

We are about to embark on a new era of human connection. Where the industrial revolution was about transforming the workplace to increase productivity, the next revolution of the workplace is about improving the lives of the workforce.
The decade we're entering is centered around upgrading the work experience, especially when it comes to office workers. In recent years, the cubicle has all but disappeared and Activity Based Working, ABW, has become the norm. Employees no longer spend 8 hours a day, 5 days a week behind a desk, but instead engage in different activities during their workday - thus, the office has adapted by incorporating spaces designed for these activities. As a result, workers became more engaged and more productive. However, one aspect of the office stayed the same for nearly half a century: companies needed bricks and mortar to provide their employees with a place to work.
A truly unprecedented experience, the recent COVID-19 pandemic has facilitated a pivot to remote work that has surpassed all expectations. Collaboration technology has been adopted by both companies and employees all over the globe and confirmed that people can work from basically everywhere. Yet, while workplace flexibility has become the new normal, issues of burnout and feelings of isolation are on the rise.
Throughout my time as Managing Director of WeWork Europe, responsible for the fast expansion from 2015 to 2020, building and managing over half a million sqm of office space in 8 cities in 5 countries, I witnessed many companies, from startups to Fortune500, change their approach to real estate and space. As the industries around them changed faster than ever before, influenced by political, cultural and environmental factors, as well as drivers of innovation and disruption, it became clear that flexibility of space and employee engagement are essential to success.
Space became a service, just like fast WiFi, great coffee, access to ABW spaces, and most importantly, a place where creativity and connection between individuals were embedded in every detail.
This poses the question: how does one create an environment where connection is created accidentally on purpose, both online and offline? Space needs to become magical, hybrid, and exciting. It needs to become better than the next-best alternative for most employees, their homes. Employees need a reason to get up, get dressed, and commute.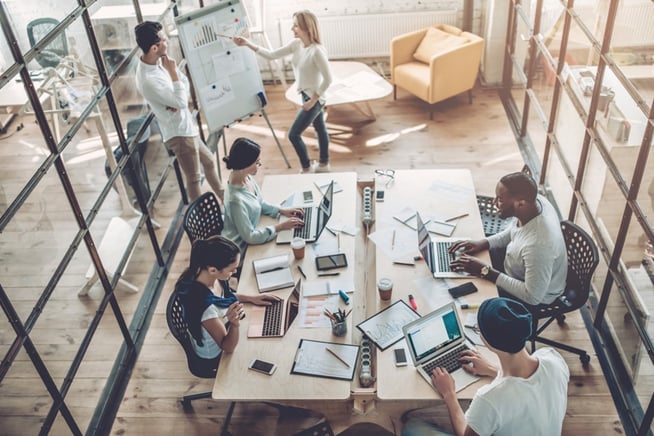 The workday experience will be best when it becomes more digital: access to a food-and-beverage ecosystem of restaurants, lounges, cafeterias & pantries at the swipe of a finger, ordering food and concierge services, providing the latest information on the building's health and safety protocols, booking rooms and workspaces, all with a tap on a smartphone. The next evolution of the office is about services and experiences, all contextually embedded within the workplace through the digital layer of office buildings.
The future of work will be about connection and engagement in order to improve the well-being of office workers. A hybrid approach to working is just one aspect of many. To boot, now more than ever, it is time to use technology to connect people offline.


Real estate's old dictum location, location, location is changing into location, data, experience. And I would like to add to that: connection. As hybrid working is here to stay, a sense of belonging will be more important than ever.

Real estate has the ability to foster stronger connections between humans. Real estate has the ability to create a positive impact in local communities. Real estate has the ability to embrace technology that allows individuals in local neighborhoods, citizens, small business owners, and office workers to connect online. And real estate has the ability, through technology, to offer access and opportunities with the purpose of bringing people closer together, igniting innovation and creativity offline.
The future of connected neighborhoods, with the landlord in the role of the changemaker, rebel, initiator, and creator will change the narrative of the office forever.

At InfinitSpace, our goal is to actively participate in building the future of work, by providing innovative flexible workplace solutions. Learn more about us and our mission of bringing people together here.